b o o k i n g information
For all your music production needs
give us a call today to get started.
615-662-7797

email: booking@markofthedog.com
Production: We'll work with you to define, tighten, fine tune & produce your music.
Studio booking: We can set you up in some of the finest studios in Nashville.
Musician booking: We can put you together with with the best studio musicians available.
Recording your project--whether a full album or demo tracks--can seem like an endless nightmare of logistics. At MOD we deal with these situations every day, and can help take some of the anxiety out of making your CD. As a production company we offer many services to help you along the way. We will work with you to analyze your music and help you make the proper choices to ensure the highest quality recording.
We work with many of the top studios in Nashville, so we can ensure helping you get the best possible rates. We work with Omni Sound Studios, Sound Emporium Studios, Quad Studios, Nightingale Studio, and many others. We base choices for studio on the requirements that are needed to make sure that the sonic needs are met for your type of music.
Are you a band or a singer songwriter? We work with both situations every day. If you are a singer songwriter and need to have session players hired, we work with the best. We can help make decisions for you based on the style of music you are writing that will help match you with the players that will compliment your music. If you are a band and need a supplementary player, like a keyboardist or guitarist, we can help you match up with the players you need to know.
We will look at your session needs, and the number of songs that you would like to record and will draw up an accurate and itemized budget so that you will see exactly how your money will be spent on your behalf. Depending on the number and quality of musicians and size of the studio etc. the numbers are workable.
If you have further questions about your session and what you will need please feel free to contact us at the information listed below.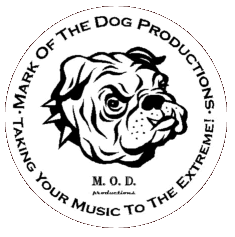 M.O.D. Productions
7800 Farmington Place
Nashville, TN

37221
615-662-
7797

email: booking@markofthedog.com

www.markofthedog.com
| home | a b o u t m.o.d.productions | b o o k i n g information |
| m u s i c samples | a b o u t jason | a b o u t clark | g u e s t book |
Contents copyright © 2001 M.O.D. Productions. All Rights Reserved.